Introduction
John Morley paints what he knows and loves; the plants from his garden, and the East Anglian landscape in which he has lived and worked for the past 30 years. Like his friend the late Cedric Morris, John Morley is very much part of the celebrated tradition of East Anglian painter-plantsman. His is no ordinary garden however; it contains, among many other rarities over three hundred varieties of snowdrops, as well as old daffodils, fritillaries and auriculas. His knowledge of them is encyclopaedic. It is this, combined with an indubitable mastery in conveying texture and the play of light on his subject, that renders the images so unforgetable. He returns time and time again to favourite subjects; the auricula paintings, red currants, flowerpots and, of course, snowdrops. Recently he has set himself another challenge in taking a studio apartment in Prague. Essentially, however, his aims remain the same; to render exactly the effects of light as it falls on an onion-domed baroque monastery or to capture the flute delicacy of wild fungi, which the countrypeople bring into the city in the autumn. Morley is a painter who is true to himself and it is this integrity combined with rare technical skill which makes his paintings so beguiling and memorable.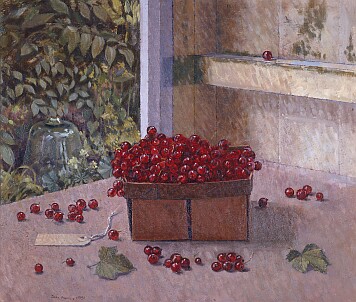 An Appreciation
As they carry on working in their private worlds - ideally for as long as they live - artists tend to show scant concern for anniversaries. And as the work can be brightened rather than dimmed by age, there really may be little value in looking back. But two dates glimmer behind the latest exhibition by John Morley - the artist's 60th birthday and his 25th year with the Piccadilly Gallery.

Continuity is a particular hallmark in the career of this painter and wood engraver who has shown annually at the Royal Academy Summer Exhibition since 1962. And over the past three decades he has created a garden in Suffolk which now includes auriculas, almost 300 varieties of snowdrops and many other rarities passed from fellow East Anglian painter-plantsmen Cedric Morris, John Nash and John Aldridge. He has long drawn his main inspiration from this painstakingly cultivated two-acre plot, as well as from the crammed house and studio carved from a row of ruined cottages and the fields and sea beyond.

But his recent exhibition at the Piccadilly Gallery also marks a point of departure, for John Morley has a second studio in Prague - another magpie's nest of fine and found objects. When not depicting still-life compositions in his apartment, he often seeks out tranquil corners in the teeming city where he is curiously both abroad and at home.

Ian Collins

Ian Collins is the author of 'A Broad Canvas:Art in East Anglia since 1880'(Black Dog Books) which includes a chapter on John Morley.
The Brotherhood of Ruralists
"When the Brotherhood of Ruralists was formed in 1975 it consisted of the seven people who happend to be present. If John had been there he certainly would have been a member, and I have always thought of him as the eighth Ruralist.

John's work has always given me enormous pleasure. In the years that I have been on the selection committee of the Royal Academy Summer Exhibition, when John's little still life paintings appear, the heart lifts.

I'm also a fan of his wonderful, delicate wood engravings, and count myself lucky to be the owner of a complete set."


Sir Peter Blake, R.A., September 2002